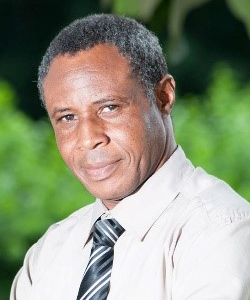 Prof
Samuel Mensah Sackey
Director
Email
Professor Samuel M. Sackey (MGhIE, MSME) is currently (2018) the Director of the Technology Consultancy Centre, KNUST. He is also a member of the Mechanical Engineering Department, Kwame Nkrumah University of Science and Technology (KNUST). Professor Sackey received a Bachelor of Science degree in Mechanical Engineering from the KNUST, Ghana in 1988, a Master of Science degree in Engineering and Management of Manufacturing Systems from the Cranfield University, Great Britain, in 1996, and a Doctor of Philosophy degree in Mechanical Engineering from the North Carolina Agricultural and Technical State University, USA, in 2004. He teaches mechanical design and production engineering, as well as engineering materials, industrial engineering, quality assurance, industrial innovation and technology, and manufacturing systems related courses
S. M. Sackey, A. Bester and  (2017), Industry 4.0 Learning Factory didactic Design Parameters for Industrial Engineering Education in South Africa, South African Journal of Industrial Engineering Vol 28(1), pp 114-124.

S. M. Sackey and  A. Bester (2016), Industrial Engineering Curriculum in Industry 4.0 in a South African Context, South African Journal of Industrial Engineering Vol 27(4), pp 101-114.

Samuel M. Sackey and Samuel P. Owusu-Ofori (2004), a Dynamic Modeling Technique for Damage Progression in Drilling of Composite Laminates, Transactions of the North Americam Manufacturing Research Institution of SME, Vol. 32, pp.71-78.

Samuel M. Sackey and Powell, J. W. (2006), Quality Issues in Small and Medium Ghanaian Engineering Manufacturing Companies, Journal of the Ghana Institution of Engineers, Vol. 4 No. 1, June, pp.21-28.

Samuel M. Sackey and Powell, J. W. (2006), Improving Product Integrity in Agro-processing Equipment Manufacture in Ghana,  Journal of the Ghana Institution of Engineers, Vol. 4 No. 2, June pp. 34-44.

Samuel M. Sackey and Samuel P. Owusu-Ofori (2015), An Empirical Scheme for Drilling Delamination-free Holes in Polymer-matrix Composite Laminates, Journal of Advances in Science and Technology Research (JASTER), Vol. 1, No. 1, pp.1-3.

S. M. Sackey

and S. A. Frimpong (2015), Manufacturing Engineering Practices in the Metal Fabrications Sector of Ghanaian Industry, Journal of Science and Technology, Vol. 35, No. 1, pp. 39-51.

Sackey, S. M.

(2015), Correlating Engineering with Development – The case of Mechanical Engineering and Support Institutions in Africa, Journal of Advances in Science and Technology Research (JASTER), Vol. 1, No. 2, pp.14-21.

S. M. Sackey, V. R. Ancha, M. P. Chinyama, C. Awono Onana, R. Danwe, M. M. Megahed, B. Delpouve, S. Chama, N. Mahomed, V. Kayibanda, L. Y. Kabeya Mukeba, A. Müller

(2014)

,

Collaborative meta-profile development to harmonise mechanical engineering education in Africa

, Tuning Journal for Higher Education, Vol 2, No 1. pp.161-178.

A. Akayeti, Samuel M. Sackey, D. E.K. Dzebre

(2015),

 

 Development of Indigenous Automobile Design and Manufacturing in Ghana,

African Journal of Applied Research, Vol.1, No.1 ISSN 2408-7920, pp. 3179-192.
Sackey, S. M. and Adam, F. W. (2015), Mechatronics Curriculum Development in an Emerging Economy – The Case of the KNUST, Ghana, African Journal of Applied Research, Vol.1, No.1 ISSN 2408-7920, pp. 144-158.

Ribeiro, J.X.F, Sackey, S. M., Agyei-Agyemang, A.

(2015),

 

Status of Maintenance Engineering in Ghanaian Manufacturing Industry

,

 African Journal of Applied Research, Vol.1, No.1 ISSN 2408-7920, pp. 372-386.
Samuel Mensah Sackey and Samuel P. Owusu-Ofori (2015), Concept of Delamination Strength in Drilling of Composites, Journal of Advances in Science and Technology Research (JASTER), Vol. 2, No. 1, pp.21-24.

F. L. Larkai and S. M. Sackey

(2015), Factorial Experiments for Product Quality Improvement in a Ghanaian Manufacturing Firm, Journal of Science and Technology Vol. 35, No. 2, pp50-59

S. M. Sackey, S. P. Owusu-Ofori, F. Nyarko (

2016

).

Designed Experiments for Studying Delamination in Drilling of Composite Laminates,

 

Journal of Advances in Science and Technology Research (JASTER),

Volume 3, Number 2.

Samuel M. Sackey, Richard M. Greenough, F. Nyarko (

2016

)

,

Status of Maintenance/Repair Servitization in the Agricultural Machinery Sector,

Journal of Advances in Science and Technology Research (JASTER)

, Volume 3, Number 2.

Chapter in a book

Charles AWONO ONANA, Shadreck CHAMA, Moses Phenias Mngwapa CHINYAMA, Béatrice DELPOUVE, Léonard KABEYA MUKEBA, Venant KAYIBANDA, Mohamed M. MEGAHED, Nawaz MAHOMED, Samuel Mensah SACKEY, Taoufik NASRI, Martin PANOU, Danwe RAIDANDI and Venkata Ramayya ANCHA (2014), "Chater 6: Mechanical Engineering" in Tuning and Harmonisation of Higher Education: The African Experience, edited by Charles Awono Onana, Olusola Bandele Oyewole, Damtew Teferra, Pablo Beneitone, Julia González and Robert Wagenaar,  University of Deusto Bilbao, Spain, National book catalogue No.: BI - 358-2014,  

pp 191-264
Qualification
Period
BSc Mechanical Engineering
         Nov. 1988
MSc Engineering and Management of Manufacturing Systems
        Sep. 1996
PhD Mechanical Engineering
         May. 2004
Industrial and Manufacturing Engineering, Quality Assurance
Quality assurance in manufacturing processes, and material process interactions
Product and Process Development Engineer, GRATIS Project, Ghana.
Professor of Manufacturing, KNUST
Recent courses taught: ME 361 Dynamics of Machinery, ME 469 Facilities Design, ME 481 Engineering Materials II, ME 479 Discrete Event Simulation, ME 362 Vibrations I, ME 482 Engineering Materials III, ME 496 Human Factors and Ergonomics, TME 553 Theory of Innovation and Commercialisation, and TME 662 Industrial Innovation and Technology Management. Prof Sackey is supervising the theses of four MSc students in addition to undergraduate several student projects.
August 2000 – May 2004: PhD Student/Instructor, Department of Mechanical Engineering, North Carolina Agricultural & Technical State University, USA
Courses taught: Manufacturing Processes, Statics, Statics and Mechanics of Materials, Materials Science, Dynamics, System Dynamics, Mathematics: Algebra and Trigonometry
August 2015 - June 2016:  Cape Peninsula University of Technology, South Africa
Courses taught: Strength of Materials, Applied Strength of Materials, Mechanics
Director, Technology Consultancy Centre, KNUST August 2017 -

Head of Mechanical Engineering Department, KNUST, 2011/2012 – 2013/2015

Head, Industrial Engineering Section, Mechanical Engineering Department, KNUST

Head, Design & Manufacturing Section, Mechanical Engineering Department, KNUST

Coordinator, the BSc Aerospace Engineering Programme, KNUST

Coordinator, Postgraduate Programmes, Mechanical Engineering Department, KNUST
Citation from Mechanical Engineering Students' Association
International teaching and research
Ghana Institution of Engineers
USD 9,600, for diligence research on an industrial firm on behalf of AFREXIM Bank, Egypt through the College of Engineering, KNUST.  2012-2013
Linking process capability to cost in nail-wire drawing

Improving precision of approximate methods of analyzing beam vibration

Modelling and improving the accuracy of some existing failure theories

Effect of Industry 4.0 systems on Industrial Engineering laboratory requirements

Modelling of material-process interactions affecting delamination in composite materials processing

Industrialization and technology transfer issues in Ghana

Innovation and technology practices in Ghanaian manufacturing firms (Several strands)