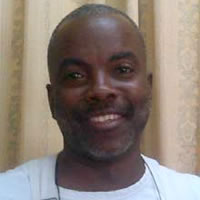 Mr
Michael Kweku Commeh
Research Fellow
Email
Michael Kweku Commeh is a Research Fellow and Head of the Applied Industrial Ceramics and Rural Enterprise Development Unit, Technology Consultancy Centre, KNUST. He is a highly creative person with a MSc. in Appropriate technology and Environmental Management in connection with Rural extension skills (Renewable energy & Environmental resource Management) from Universitaet Flensburg Germany.
His First degree was in B. A. Art (Industrial Ceramics) from KNUST, Kumasi. His expertise is Solving Problems under the philosophy of engineering Geography. He believes in "dialogue between sophisticated organic African indigenous technology and complex artificial technology of the northern hemisphere" on the platform of education for sustainable development. He hates publication without positive social effect.
His research interest is in energy geography, engineering geography, geography of ethical values in rural Ghana,  Eco tourism & tourism activities, climate change, applied composite ceramic materials, rural entrepreneurial skills development, empowering rural people to enhance their life without beaucrats etc.
Currently his research works are being implemented to test it societal values with NGOs & rural communities (especially around protected Areas), mainly in energy efficient system (clean energy for women $25), environmental sanitation (non chemically treated ceramic water filters ($25)), ceramic enterprises development, housing, developing products/systems for the broader base of the poor, etc
He speaks and writes German and English excellently but little with Spanish and French.
His hobbies are scuba diving, horse riding, travelling to wonderful places and peoples, reading philosophy books, hiking etc.