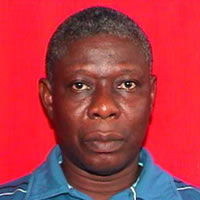 Mr
Crossman Mathias Hormenoo
Chief Technician
Email
Crossman Hormenoo works as a Workshop Manager of the Suame Intermediate Technology Transfer Unit, which is a part of Technology Consultancy Centre,(TCC) at the Kwame Nkrumah University of Science and Technology in Kumasi, Ghana. 
His duties include the design and manufacture of a wide range of machinery and processes used in agriculture, food processing, wood processing and general industrial processing. He had further trainings in design and construction of equipment for small scale industries in Kenya, design of jigs and fixtures in Hyderabad, India, heat treatment and metal finishing technology in Japan, and aluminum technology in Thailand.
His area of interest is focused around developing simple technologies to help reduce poverty and help improve the quality of life for those living in developing countries.
He participated in IDDS 2007 and for four weeks he and his team worked on a low cost refrigerator project. He returned as an organizer for the 2008 conference and the 2009 conference in his home country of Ghana, and participated in 2010 1DDS at Colorado State University in the USA.