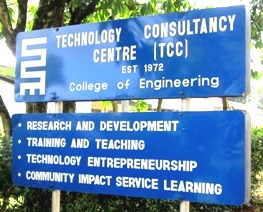 The Technology Consultancy Centre (TCC) of the College of Engineering, Kwame Nkrumah University of Science and Technology (KNUST) was founded in 1972 with a mandate to work with KNUST's academic departments to research, co‐develop and transfer technology to support small and medium scale industries in Ghana. To realize this objective, the TCC runs five programme units. Researchers in these units write technical papers, reports on development focus projects and regularly publish in national and international journals and conference proceedings.

 Over the years, the TCC has led the University to participate in national exhibitions and winning national awards, notably Indutech and Ghana Can Make It. The TCC has trained over 5,000 entrepreneurs, apprentices, farmers and students in Ghana, Malawi, Togo, Sierra Leone, Cote D'Ivoire and Cameroon.
The TCC was ranked 8th out of KNUST's 64 departments in the 2008/2009 academic year by the Quality Assurance and Planning Unit (QAPU) of KNUST.
One of the significant impacts of the TCC is the pioneering of the Intermediate Technology Transfer Unit (ITTU) concept which culminated in the establishment of the Tamale ITTU in 1982 and the GRATIS Project in Tema in 1986. This effort involved identification of regions, districts, sites and technology needs.
The TCC successfully completed a World Bank-sponsored project, which involved the transfer of technologies including Agribusinesses in Malawi from 1993 to 1995.
Between 2008 and 2011, the TCC was engaged in a Training of Trainers programme as a Training Service Provider (TSP) for 50 Farmer-Based Organizations (FBOs) in the Ashanti Region, under the Millennium Development Authority (MiDA). This involved identification of some agricultural produce, assessment of value chains and development of business plans for effective marketing.
Between 2010 and 2011, TCC carried out needs assessment for capacity development of metalworkers and agricultural mechanization workers of clusters in the Kumasi Metropolis. A database of 510 small and medium-scale metalworkers and agricultural mechanization in Kumasi was developed for Ghana Private Sector Development Facility (GPSDF) of the Ministry of Trade and Industry (MoTI), Accra.
In the year 2012, the TCC worked in collaboration with Ghana Jatropha Project partners to identify, site and establish the first decentralized Jatropha Processing Facility at Kparigu in the West Mamprusi district of the Northern Region, Ghana.
In the year 2013, the TCC won an EPA, Accra competitive contract to provide consultancy services on community needs assessment of 20 communities in the Chirano Goldmine catchment area, Western Region for needs prioritization and apportionment of accrued funds for development projects.